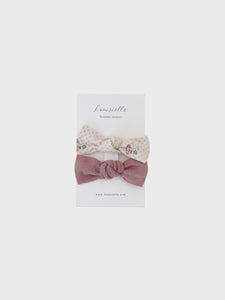 Adorable hairpin created with Louisiella's unique prints to match this fall/winter collection. Perfect for a total look or for just a touch of loveliness.
Adorable épingle à cheveux créée avec les imprimés uniques de Louisiella pour être assortie à cette collection automne - hiver. Parfait pour un total look ou pour une simple touche de charme.
detail info.
Style Name : Reia Hairpin Set
Color : Vintage Pink
Material :  Cotton 100%, Metal 100%
Country of Origin : South Korea
Size : FREE
---
We recommend you to consult this measuring guide during your purchase.
baby
size
height (cm)
weight (kg)
1m
up to 54
4.2 ~ 4.5
3m
up to 60
5.2 ~ 6.0
6m
up to 67
6.0 ~ 7.0
12m
up to 74
7.0 ~ 8.0
18m
up to 81
8.0 ~ 10.0
24m
up to 86
10.0 ~ 12.0
girl
size
height (cm)
weight (kg)
3y
up to 95
12.0 ~ 14.0
4y
up to 104
14.0 ~ 17.0
6y
up to 114
18.0 ~ 21.0
8y
up to 128
21.0 ~ 26.0
10y
up to 140
26.0 ~ 33.0
12y
up to 152
33.0 ~ 40.0
etc
size
height (cm)
weight (kg)
xxs
up to 67 ~ 74
6.0 ~ 8.0
xs
up to 74 ~ 81
8.0 ~ 10.0
s
up to 86 ~ 95
10.0 ~ 14.0
m
up to 104 ~ 114
14.0 ~ 21.0
l
up to 128 ~ 140
21.0 ~ 33.0
---